LOUNGE, BAR AND PATIO
Beautiful views and classic décor set the stage for a relaxing dining experience, homemade fare and delectable baked goods. For an early morning breakfast, brunch, relaxing lunch, or casual dinner, our clubhouse's expertly prepared dishes and warm, welcoming service will pleasure your palette and exceed your expectations.
The clubhouse lounge and bar are conveniently open 7 days a week during the regular golf season. Our clubhouse is the perfect place to sit and relax after a great round of golf, catch a game on our big-screen TV's and refuel with some tasty appetizers, a hearty sandwich and a tall icy cold beverage from our wide selection of drinks. Enjoy the scenic view and 18th hole golfers on our licensed patio.
Our friendly kitchen staff provides a daily special to accommodate a variety tastes and we also provide a takeout option for those on the course, or those in the area. We are known for our homemade burgers and fries so stop in, have a bite and enjoy the natural beauty that is The Red Lake Golf Course.
Our beverage cart is equipped with both alcohol and non-alcoholic drinks, sandwiches, confectionary and baked goods. This service is not available until 11 a.m. (as per Ontario law) and is supplied based on the population of golfers and weather conditions.
DINING ROOM AND SPECIAL EVENTS
Our dining room, overlooking our scenic 18th hole, comes equipped with large screen TV's, stereo system, karaoke machine, both round and rectangular tables, and can be rearranged to fit any event you might want to host. Our kitchen offers an extensive event menu and can work with you to cater your event in a unique way. We also offer a wide range of wine and spirits, appetizers and desserts and can accommodate 100 guests. For more information, or to book the dining room for a special event, contact the clubhouse.
WEDDINGS
Here at the Red Lake Golf and Country Club, we take pride in making your big day special. Our staff will work with you, or your wedding planner to accommodate any need you may have and would love to share your big moment here amongst our natural environment. For more information, contact the clubhouse.
CLUBHOUSE FACILITIES
Our clubhouse provides cart, locker and club storage for both men and ladies members and non-members for a small fee. Our locker rooms are always maintained and come equipped with showers and a washer/dryer for your convenience. Our storage facilities are camera monitored and locked every day. We also offer club car rentals, pull cart rentals and both right and left club set rentals to meet your every need. For more information on club facilities, contact the clubhouse.
GOLF SHOP
Our golf shop is equipped with the latest in golf merchandise and we gladly compete with out-of-town prices to keep you satisfied. We offer custom fittings, custom equipment ordering and always maintain a regular inventory of new items, logo items and tried and true favourites to suit your every need. Bags, gloves, shoes, apparel, clubs, balls, tees, etc., we have it all! If you can't find that perfect gift, we also supply gift cards. We receive new inventory every week, so come in and have a look. Our knowledgeable staff will be happy to accommodate you. (Some of the brands we carry are seen here.).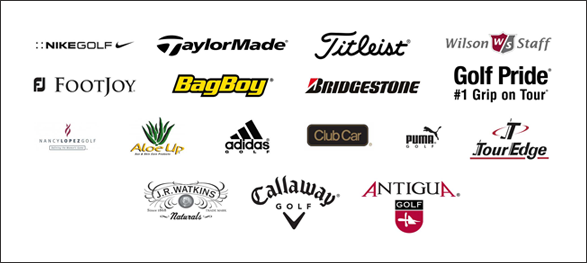 DRESS CODE
The Red Lake Golf and Country Club encourages its guests to wear appropriate athletic attire. Guests with inappropriate footwear, or offensive clothing may be asked to change before using our facility.